Education
Richard Harris has been teaching piano, theory, composition, GCSE, A/S and A-level music to pupils since 1990.
Musical games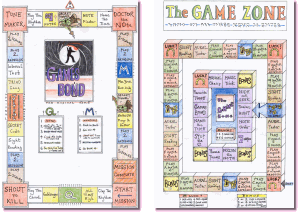 Examples of our FREE games, click for more details
In lessons he has often used a number of specially designed games as fun study guides in the learning of scales, arpeggios, rhythm and musical memory. Much enjoyed by pupils, elements of these games feature in 'Pianoworld' (Faber Music), Richard Harris' educational collaboration with Joanna MacGregor in which puzzles and games are used to explore composition, notation and the first steps toward piano-playing.
rfkharris.com is happy to offer these games for free.
Download your free set of games.
Presentations
With puzzle author Rob Eastaway, Richard Harris has also given many presentations on maths and music to children of all ages. 'Numbers and Rumbas' focuses on the maths behind melody, harmony and rhythm, with plenty of musical examples and fun audience participation. It can be adapted for any audience from primary school to music degree students. Previous lectures have been given at Queen Mary College, Cambridge University and The Royal Institution in London.
To find out more about 'Numbers and Rumbas' please contact rfkharris.com.